" Now faith is being sure of what we hope for and certain of what we cannot see."
I have s-l-o-w-l-y been learning a very important child rearing principle: I am running a marathon, not a sprint. Now, this may seem obvious to some of you, but it is something that has taken me quite awhile to understand.
My difficult child cannot be changed overnight. He will not "be a new child by Friday" simply by following a new discipline technique. He will continue day after difficult day to test me, to push back against me. There will be times that it feels utterly hopeless and I will feel like a complete failure as a mother. There will be days I will throw up my hands in surrender and say, "Enough! I can't do this another day." Then, by God's grace, I will get up the next morning and begin again.
I have learned that when days are the darkest, that is when we need to stand in faith. Instead of throwing up our hands in defeat, we have to have faith to believe in God's promises. We discipline in faith, believing that God's ways are good and right.
We experiment with diet in faith
, trusting God to give us wisdom and insight. We pray in faith, knowing God hears every prayer and knows all our needs before we ask them. When we have loved, sacrificed, disciplined, prayed, exhorted and hoped, we stand in faith and wait for God to "give the increase." It will not happen overnight. There may be many long and dark years. We must not expect a quick and easy sprint to the finish line. It is a long and slow marathon and, like all good runners, we must learn patience and endurance.
"Be strong and of good courage" today as you train and love your difficult child. Do not be discouraged when you can't see the finish line. Faith is "being sure of what we hope for and certain of what we cannot see." (Heb 11:1) It is there and you will cross it one day as you continue in faith.
J

oin us for Gratituesday at

Heavenly Homemakers

!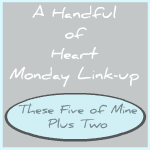 Are you encouraged here? I invite you to subscribe to Hope for the Difficult Child (it's free!) and receive our latest posts straight to your inbox. Connect with us on facebook and receive updates not posted on our blog.